I started this on Friday, otherwise. If I had started it today, I would have called it "Goodbye, Daniel."
Somewhere in Israel, there is someone responsible for counting how many rockets Hamas fired at us today, this week, this month, this year and all of the 15 or so years or more that it has been firing at us. I don't know how many fell. I only know that it seemed endless.
Today and yesterday, I have been balancing the needs of three children, missing one terribly, and realizing the fourth is about to move on and out and with all that has happened this summer, he was robbed of so much.
My children, like most of the kids in Israel, have had virtually no summer. Who could think with what was happening here?
Today, yesterday, the day before, last week and even last month, Israel has had endless attacks.
There is almost nothing else in the news other than the attacks...or there was nothing new, until yesterday when a family with three children heard the Color Red warning. Their oldest child, Daniel was outside. He had three seconds to get to safety - he didn't make it.
Daniel Tregerman died yesterday and today his family and all of Israel mourn today. At his funeral, this morning, his mother Gila spoke words a mother should never have to say:
Daniel my sweetheart, I cannot believe I am here now, saying




goodbye. We were the happiest family in the world, and I just cannot come to grips with it. We wanted to say thanks, you taught us how to love and you gave us some much joy. I find solace in the fact that you were a loved and happy child until your last minute.
We wanted to protect you but even the code red siren failed to save you. You would always run first and call your little brother (to the shelter) and then in a second it ended.

We don't want to say goodbye. You are the love of my life, the perfect child, every parent's dream: Smart, sensitive, ahead of his age group and beautiful, so beautiful.
Mourning the loss of Daniel, President Reuven Rivlin delivered these words: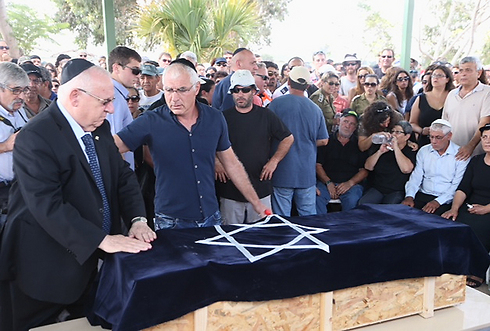 "We dreaded the moment more than anything. We saw preschools suffer hits and abandon bikes and we knew the terrorists have no regard for the blood of their children would not spare our own."
"He was too young to cross the street by himself because it was dangerous, but old enough to know the Code Red siren means because that too is dangerous; he was stilling learning the alphabet but knew the difference between a shelter and mortar, between an interception and a hit, between birds chirping and the rockets shrieking.
"I think of a flower growing here, with its stem being cut. Cut be an evil hand, cutting a life and smile that will never be seen again. I think of a mother and father, and brother and sister who lost their sibling, their son. They lost you Daniel, the most precious of things in the world."